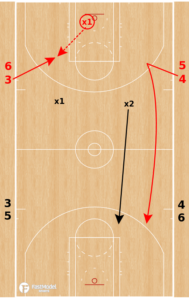 This transition defense drill came from the following pages of the FastModel Sports Plays and Drills Library:
Boomers 2-on-2 Defensive Transition – FastModel Sports.
You can also find out more about FastModel Play Diagramming software by clicking this link: FastDraw
The drill was contributed by Ryan Nguyen WHP Performance Analyst (Canada Basketball)
Here is what Ryan said about the drill:
2-on-2 transition defense drill that works on communication and keeping the ball out of the "tunnel." It is important for players to communicate and talk with each other who has the ball and who is back in help.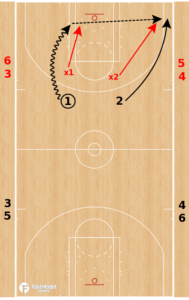 Drill starts with 2 offensive players & 2 defensive players on the court.
Play 2-on-2 to start (1 & 2 versus x1 & x2).
On make, miss or turnover offense turn to defense.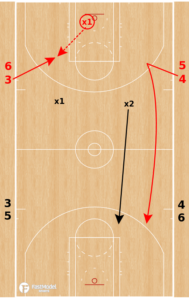 On make/miss, offense (previously defense) outlet to either player coming in from the sideline.
Must catch the outlet inside the 3-point line.
Other offensive player is free to sprint up the floor.
Players MUST COMMUNICATE/TALK (Who has ball? Who is back?).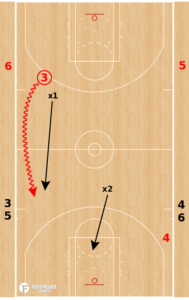 Work to keep the ball on the side.