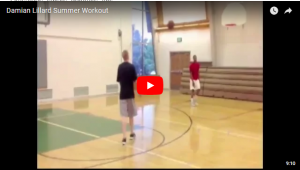 This post has three videos of some workout drills that Damian Lillard used prior to going to the NBA.
I know that you won't be able to use all of the drills, but hope you can find a few that you can tweak for your program.
Here is a link to another post that I made a few years ago with another drill that he used: The 3 point license
Again, you will need to make some adjustments for your team.
These are YouTube videos, so you must be on a server that allows YouTube access.
Summer Workout
Ball Handling Drills
Pre-Draft Workout
More than likely, you won't be able to use much if anything from the first two and a half minutes.
The shooting and finishing with toughness drills start in this one at about the 2:30 mark.