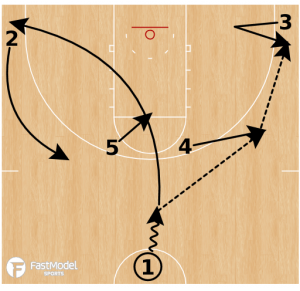 This backdoor play was contributed by Jusin Scanson to the FastModel Sports Basketball Plays and Drills Library.
You can also find out more about FastModel Play Diagramming software by clicking this link: FastDraw
Editor's note from Brian:
You might not be able to run this or any other play that someone else uses exactly as is.
What you can hopefully do is take parts of the play and combine them with other ideas that you use or see.
In my opinion, the value of anything that you see someone else run, online, or at a clinic, is that it will get you to do some sustained and creative thinking about improving what you do.
It is also great fodder for staff discussion so that you get everyone's minds involved.
The play is designed to clear out the help defense and set up a backdoor cut.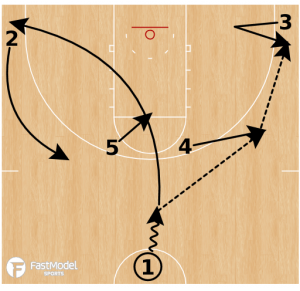 From a horns set, 4 pops out to get a wing catch.
1 cuts through the lane to the weak side corner.
2 starts to cut towards the top of the key as 5 occupies the high post. 3 V cuts to get a catch near the corner.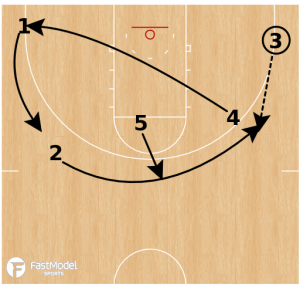 After 4 passes to 3 in the corner, 4 cuts hard to the opposite corner.
2 cuts to the strong side wing to get a reversal from 3.
5 steps to the top of the key and 1 cuts to the opposite wing.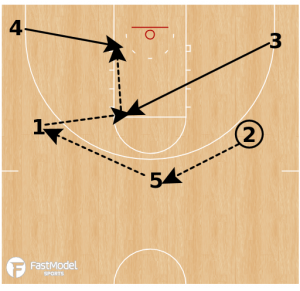 2 swings the ball to 5 who swings the ball to 1.
3 cuts hard to the high post for an entry from 1.
On the catch, 4 cuts hard back door for a layup or free throws.