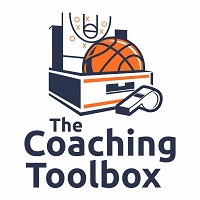 By Alan Peel
Assistant Varsity/Junior Varsity Boys' Basketball Coach, Bishop Miege High School
Owner/Operator, www.coachpeelbasketball.com
A major part of success in offensive basketball is having sound offensive principles that allow your team to maximize the efficiency of their possessions.  Legendary coach Dean Smith said, "The objective of any basketball offense is to score as often as possible on each possession."
Much has been said about analytics and its use in basketball.  When analytics are applied to team play in basketball, especially offense, there are eight principles for sound offense that are proven to be effective.
In presenting these eight principles for sound offense, I will ask questions.  The reason being is to get you to think about your team's own offense.  I have also provided some additional thoughts of my own to help you think about each question.
I should note that each of these eight principles for sound offense came from legendary coach Tex Winter, the inventor of the famed Triangle Offense.  While your team might not run the Triangle Offense, the principles are sound and can be applied to just about any offense.
Penetration:  Does the offense penetrate the defense?
The most important thing that your offense can do is to attack the free throw lane.  It has been statistically proven that teams that have an offensive possession with the ball getting into the lane see increases in field goal percentage, trips to the free throw line, fewer turnovers, and better overall offensive efficiency.
Whether you are using the dribble or the pass to penetrate the lane, the ball should enter the paint at least once every offensive possession.  Defenses always collapse on lane penetration.  Teams that react slowly give up easy shots at the rim.  Defenses that react quickly to penetration are ripe for shots from behind the three-point line.
Spacing:  Does your offense have good spacing?
A well-spaced offense has the ability to make quick passes from player to player while also being able to keep from being trapped by the defense.  A spaced-out defense becomes less effective than a defense that is able to stay close with help close to the ball.
If a pass has to be made with extra air under it, you are too far apart.  If two or more defensive players can easily guard one player, chances are you are too close together.
The ideal spacing for any offense is 15 to 18 feet.
Offensive flow:  How seamlessly do you flow from defense to offense?
When your team's defensive possession ends, how easily do you go from defense to offense?  Teams that utilize the fast break have the best opportunity to score more points, shoot a higher percentage, get to the free throw line more often, and are much more efficient than teams that don't run.
An ideal offense flows from defense to offense instantly and is able to get up the floor quickly.  A team with a well-organized break is able to score quickly and get high-percentage shots.
Ball and player movement:  Does the ball and do your players move with purpose?
The two worst kinds of movement are no movement and movement for the sake of movement.  The first one is obvious while the second one accomplishes nothing.
Players who don't move are easier to guard.  A ball that does not move gives the defense a break and allows them to get properly set or stay set.
Players who move without purpose do nothing to help the offense score.  Passes, dribbles, and cuts merely for the sake of aimless movement accomplish nothing.
Teams that have players who move with a purpose create opportunities for themselves and their teammates to score.  Teams that are able to move the ball with the pass or dribble with a purpose are the ones that score more points and break down defenses more easily.
Effective passing is accomplished with good spacing and movement.  Teams that change sides of the floor at least twice in a possession have dramatically better offensive numbers than teams that don't.  Teams that pass the ball into the post are better offensive teams than those that do not.
Dribbling is becoming a more-utilized offensive weapon thanks to the growing popularity of the dribble-drive motion offense.  However, players still tend to dribble in the same spot as soon as they catch the basketball.  This bad habit must be broken early in the season and ball toughness must be developed.
Generally speaking, the dribble should only be used under the following circumstances: to attack the basket, to improve a passing angle, or to avoid a closely-guarded five second count.  It should NEVER be used to dribble in the same spot repeatedly while waiting for pass or scoring options to develop.
Multiple options:  Does any player with the ball have multiple options?
As someone who has a background in scouting, a player who has only one option on a play is part of an offense that can be easily scouted.  Players who are able to use more than one option make their offense more difficult to scout.
Every offense should have three main options for it to be effective: shot, post feed, ball reversal.
Offensive rebounding and defensive balance:  Do you have the ability rebound AND get back on defense to stop transition baskets?
When the shot goes up, there should be players ready to rebound the basketball and players ready to get back on defense to stop a potential fast break.  Offensive rebounds provide an opportunity for greater scoring chances.  On second and third shots, scoring efficiency and shooting percentages improve.
Likewise, good transition defense takes away scoring chances from opponents.  Teams that are forced to play half-court offense are not as efficient in scoring as teams that have the opportunity to fast break.
To accomplish this, you need to determine which of your players should crash the offensive glass while also determining who needs to get back on defense to prevent a transition basket.  Against teams that like to run, you might find yourself sending two to the boards and dropping back three.  Against teams that are not inclined to run a fast break, sending three to the boards and dropping two might be more ideal.
Versatility for players:  Does your offense give your players the opportunity to play more than one position?
In today's era, positionless basketball is becoming more and more prevalent.  Teams are trying to find ways to position post players facing the basket out on the perimeter while also looking to post up guards.  This kind of versatility is something that puts defenses in a bind.
If an offense has players that can interchange positions, you have the ability to get a defensive mismatch.  Typically, guards do not guard players in the post while bigs do not tend to guard on the perimeter.  Offensive inversion of this kind creates headaches for players and opposing coaches alike.
Talent utilization:  Does your offense utilize the talents of individual players?
Not every team has an offensive player the likes of Michael Jordan, Magic Johnson, Larry Bird, LeBron James, James Harden, Russell Westbrook, Kevin Durant, or Stephen Curry.  However, what if you had an outstanding player on your team?  How would you utilize this player?
The offense must fit your personnel and your personnel must fit your offense.  With individual players who have unique skill sets, you have to find a way to maximize their abilities within your offense or find an offense that works better for them.
Likewise, players who do not have the skill set or the talent to play in your offense must also have adjustments made for them.  They might not be the best scorers, rebounders, or passers, but they can find something to do that can help your team on offense.
To make this work best, start by figuring out what they do best first.  Once you establish that, get them to do that in your team's offense before trying to find ways to expand their game to do more.
Conclusion
For those coaches who answer "yes" to all eight of these questions, you have something special with your offense.  If there is something missing, you might want to address it and see if you can add it into your offense without sacrificing the other eight principles for sound offense.