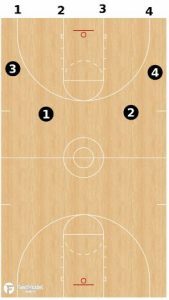 This drill was contributed by Aseem Rastogi, Head Girls' Varsity Basketball Coach at W.T. Woodson High School in Fairfax, VA to the FastModel Sports Basketball Plays and Drills Library.
You can also find out more about FastModel Play Diagramming software by clicking this link: FastDraw
Any drill that you see someone else do should always be tailored to your particular needs.
I think anytime you can structure your conditioning so that it is playing basketball, that is a good thing.
Here is an idea for a drill for you to think about and modify for your system, or to use a part of the drill to incorporate into your current drills.
8-6-4
Initial Alignment – defensive team is on the baseline, offensive team is 4 out.
(You could have the offense pass and cut to get some movement)
Set clock for 8 seconds. Utilize shot clock here if you have one.
On the whistle, the defensive team must sprint to the opposite baseline, touch, and come back in transition defense.
After whistle, coach passes the ball to any offensive player. Up to the defense to locate the ball on the way back.
Note: Each team plays transition D differently – emphasize the points for your team.
The offensive team may attack as soon as they hear the buzzer.
If defensive team gets a stop, they go to 6 seconds for the next possession. If they get scored on, they stay at 8.
Defensive team has 6 seconds to touch opposite free throw line and come back in transition defense. Offensive team may attack at the buzzer.
Rotate in new offensive team each time to keep everyone involved.
If the defensive team gets a stop at 6 seconds, go to 4 seconds. If they don't get a stop, they stay at 6.
Note: We have an accountability for staying at 8 for three possessions in a row – keeps the drill moving. Kids are sent with an assistant coach for a non-running accountability, such as pushups, planks, or wall sits. They will still finish the drill.
4 seconds – the defensive team runs to half court and back. Offensive team may attack at the buzzer.