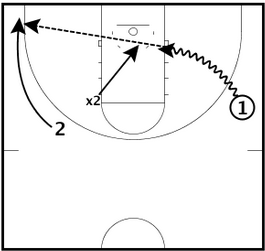 These shooting drills came from Fast Model's Plays and Drills Library. It was contributed by Brandon Bailey–current video intern for the Boston Celtics and former graduate assistant at DePaul under head coach Oliver Purnell.
You can access the page for more Drills and Plays here: Fast Model Library
I hope these drills will stimulate your thinking as to how to break down your offensive system and the shots your players get, into their out of season workouts.
Baseline Drift
– 1 man sweeps the ball below his knees and drives to the basket
– 2 man simulates his man helping on the drive and drifts to the baseline
– 1 comes to a jump stop and passes to 2 for with his baseline hand for the shot
(NOTE: 2 man, don't sprint to the corner. Stay in your stance and slide to the corner)
Crack Back
– 1 man sweeps the ball below his knees and drives to the basket
– 2 man simulates his man helping on the drive and drifts to the wing
– 1 comes to a jump stop, reverse pivots with his 1/2 court foot, and passes to 2 for the shot
(NOTE: 2 man, don't sprint to the wing. Stay in your stance and slide to the wing)
Wake
– 1 man sweeps the ball below his knees and drives to the basket
– 2 man simulates his man helping on the drive and drifts to the wake
– 1 comes to a jump stop, and passes with his 1/2 court hand to 2 for the shot
(NOTE: 2 man, don't sprint to the wake. Stay in your stance and slide to the wake)