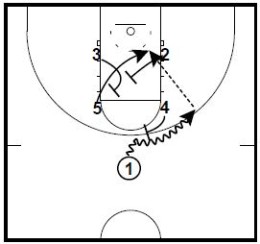 Two Plays from the 2013-14 ACC Playbook.
These two plays are from this week's featured eBook bundle.
The ACC Playbook is paired with the Louisville Playbook.
You can find out more about the bundle at this link: ACC and Louisville Playbooks
Diagrams created with FastDraw
Florida State Box #1
4 sets a high ball-screen for 1.
As 1 dribbles to the right, 3 and 2 set a staggered screen for 5.
5 cuts to the basket looking for the pass from 1.
If 5 isn't open, 2 cuts up off of a screen from 4.
3 moves out to the wing.
1 passes to 2 at the top of the key.
After screening for 2, 4 screens down for 5.
5 curls the screen and looks to score at the basket.
2 passes to 3 who passes to 5.
Duke 4 Out #2
1 passes to 5 who pops out to the wing.
4 moves inside the 3-point line as 1 cuts through to the low post.
If 1 isn't open, 5 gives the ball to 3 on a hand-off.
1 screens for 5 and 4 sets a ball-screen for 3.
3 looks to pass to 5 at the basket.
These two plays are from this week's featured eBook bundle. The ACC Playbook is paired with the Louisville Playbook. You can find out more about the bundle at this link: ACC and Louisville Playbooks