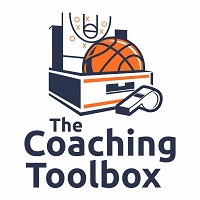 Kevin Eastman Clinic Notes – sent from Luke Wicks at U San Fran
I received these from Steve Smiley.
Sneakers Squeak on 5 on 0 Offense
-No such thing as Dummy Offense
Fist Fight to get Open – Foot Fight to Score
Offensive Post Teaching Point – On the Block/Off the Block I agree
– Pause for Poise
– Let the Crap Clear
– Always Add Free Throws to Post Work!
Cutters:
– Cutters Over the Top = Touch Elbow, Touch Rim, Open to See and Get Out to Spacing
– See Ball All the Way to the Rim
– Cutters: Eyes Make Lay Ups….Feet Make Jumpers
– Shooting Teaching Points: Coach the Beginning (Footwork) and End (Follow Thru)
Running Team
– Fast Break or Sprint Break?  Sprint is Faster
Do U Look at the Ball or Do you See the Game?
Main Keys to Shooting
– Shot Selection
– Being Ready on the Catch
– Game is played Low to High
The Floor Shrinks with each Level!
– Speed, Quickness and Length cause this.
– Got to go by your Defender…not around him
– Must Introduce Players to their Feet – Pete Carill
Ball Screen Offense
– Ball Handler: Feel Him (Defender) – See His (Show Defender) – Read Help
Best Offensive Players have ball in hand as long as they need to…not as long as you want to.
Post Players: Only Give up Position for Possession.
– Dead Dribble = Post Player Bring Baseline Foot Up to Create Passing Angle
Shooters on Pin Down – Point Fist at the Passer
– Stop and Go
– Step on Foot
Don't Post Up….Post Across
– Mini Lane!  Post Up in Mini Lane (We have to tape it on the Court)
The Best Post Players Own the Mid Line
Ball Screener
– Goal is to Arrive without your Defender
Shooting Turnovers = Bad Decision Shots
What Happened the Last 3 Possessions?
– Good Ones Love the Game and KNOW!
– Boston Charts Touches!
The Play may be Yours….but the Shot may not!!
Rebounding Logic…more u go after…more you get.
– Coaches never yell at you for being selfish with ur rebounding.
What 3 Things do we have to do to win this game
– PG's
– Wing's
– Posts
Vs. Great Shot Blocker!
– Follow the Penetration when the Shot Blocker Goes after it.
Best Shooters: Ten Toes to the Rim!
Screening Rules
– Don't Screen Air
– Unless they are Switching….don't screen ur own man
– Don't screen ur own teammate.
Touch Right Shoulders (Both) – 2 guys coming off Floppy
A Scorer has a Great Responsibility to make Great Decisions
Vs. Switches
– Cut with Speed
When in Doubt…Spread Out
– Smalls get outside the 3
– Bigs: Home Base = Short Corner? High Post?  Where are they comfortable?
Go To Guys can't turn into Force It Guys!
Direct Correlation to Ball Reversals and Defensive Breakdowns.
No Dancing!  Is Isolation And 1 Mix Tape BH…Have to Stress "We Want Direct Drives!!!"
Someone Violates Culture
– Winning – Personal Sacrifice – Accountability
– Any Violation must be addressed IMMEDIATELY
Championship Teams have Truth!
Truth = Live it, Tell it, Take It
BC always emphasizes: Best Position to Score….the Weakside of the Floor!
Force teams to be in Constant Closeouts!
Best place to back door…the Corners!
Read the Head…Read the Depth (Corner Back Door Cut)
Double Bury Him – Post Players
Green Light….really a Lime Light.
Cutter's Responsibility is to get Open…Screener's Responsibility is to get Cutter Open!
Design you offense based on Skill Set.
The Coaching Toolbox has hundreds of resources for coaching basketball including basketball practice, basketball plays, basketball drills, basketball quotes, basketball workouts, basketball poems, and more!