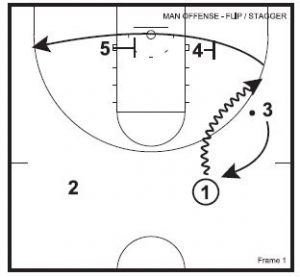 This quick hitting play is from a Xavier University Basketball Coaching Newsletter.
You can click this link if you are interested in subscribing to their newsletter and/or seeing the archives of past newsletters:

Xavier Basketball Coaching Newsletter
At the bottom of the page, I have listed some more links to other man to man set plays.
Play starts with a dribble handoff between #1 and #3.
#1 continues off baseline stagger from the bigs.
#4 sets a backscreen for #3 after the ball is reversed.
The ball goes all the way to #1 on the opposite wing.
#4 sets flare for #2 then immediately sprints to set the second screen in the staggered sideline ballscreen.
#5 (the first screener) will roll hard to the basket. #4 the second screener will pop to the corner.