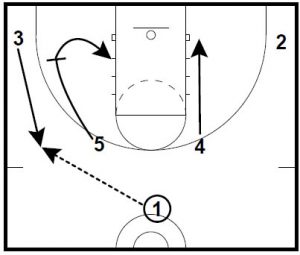 This quick hitting play to run against a man to man defense is from the 2011 South Dakota High School Basketball Coaches Association Fall Clinic.
The notes were assembled by David Preheim and were sent to me by Coach Steve Steve Smiley, current Associate Head Coach for the Men's Program at Northern Colorado.
The play was presented by Ryun Williams, Head Women's Coach at The University of South Dakota.
The play has an option for a 3 to take a 4 off the dribble if the ball screen is switched.
– 5 down screens for 3 to make a straight cut
– 4 cuts to the low block
– 5 sets a decoy cross screen while 1 sets a down screen to free up 4
– This will help take away the ability to hard hedge/trap the ball screen
– 1 spaces out while 3 attacks the lane off of the ball screen
– 1 can kick to 2 if his defender helps on the lane attack
– If they switch the ball screen, 3 needs to drag out the screen
-3 should look to take the BIG defender off of the dribble
– If X4 sags off, 3 should look to shoot the 3