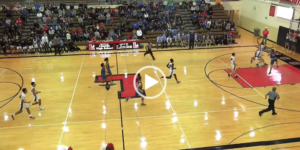 No cameraman.
No equipment.
No hassle.
Our smart camera automatically records and uploads your games and practices to Hudl. 
This is what hands-free game film looks like. 
Focus gives coaches and athletes HD video from the perfect angle. Rely on it to automatically start before the first whistle and follow the action until the last point.
Simpler Process
Set-it-and-forget-it tech and complete Hudl integration make every step of the process, from installation to film study, easier for everyone—especially coaches.
Every Team, One Solution
All teams playing in a Hudl Focus gym have access to quality video from games, practices and scrimmages. 
Don't take our word for it
"Hudl Focus eliminates some of the variables. Shaky cameras, tripods that fall, conversation in the stands that distracts, any of that."
Tony Harris
Athletic Director, Saint Ignatius College Prep
"Hudl Focus is great, it removes another piece of something I have to deal with. I don't have to worry if the camera fails or if another team didn't record."
Paige Hubl
Volleyball Coach, Lincoln Southeast High School and Customer Success Manager, Hudl
Bring Focus to your gym.
Limited release is coming fall 2019—sign up now before the cameras run out.