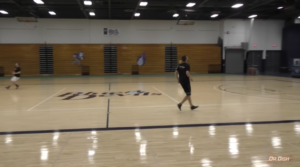 These 2 shooting with conditioning drills are provided by Dr. Dish Basketball.
These drills are both good ways to condition while working on shooting and passing skills at the same time.
Like all drills that you see, you can either modify it or take parts of the drill for your use and your needs.
Please make sure your sound is on to see the video.
Click the play arrow so see the drill.
These drills are You Tube videos, so you will need to be on a server that allows you to access You Tube to see the drill.
Full Court Conditioning Shooting Drill
Transition Shooting Drill