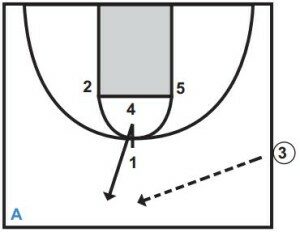 This basketball sideline inbounds play is from an old Xavier Men's Program Basketball Coaching Newsletter.
I hope it might be something you can add for the end of the season or the post season that your opponents have not seen.
If you are interested in subscribing to their newsletter, you can do so at this link: Xavier Newsletter
1 jabs to get open, 3 inbounds to 1.
2 sets a ball screen for 1 as 3 cuts through the lane and out to the left wing.
2 goes off of a 5, 4 double flare screen.
5 slips to the basket and 4 pops out after setting the flare.