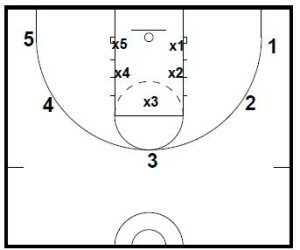 These basketball rebounding drills are from an old University of Washington women's Newsletter.
Coach Mike Neighbors has moved on to Arkansas.
8 Minute Rebounding
5-on-5 competitive drill where points are totalled at the end of 8 minutes.
Offense is around the perimeter behind the 3 point line. Defense must start in the key.
Offense will get 1 point for the rebound.
They can also play the rebound and score for more points.
After offense gets the ball, the play is over when offense scores or defense recovers.
Defense must rebound and transition down the court. Whatever they score at the other end is their points. If the offense recovers the ball, they do not get to transition back.
Point guard always gets back on defense in this drill. The defender of the point should go to double team whoever is the biggest threat.
Circle the Wagons Rebounding Drill
I think this is a good way to work on looking for someone to block out either out of a zone or from a man to man defense that traps and rotates.