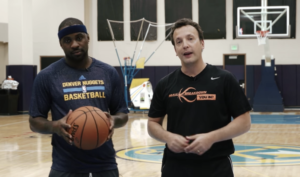 This post was originally from Zak Boisvert on his basketball Coaching Website: Pick and Pop
This is how Coach Boisvert described the video:
When working with young point guards, I've found there to be two common deficiencies in their understanding of pick and roll play.
The first nuance they don't totally grasp is the art of deception both directionally and in a speed sense. Most young point guards come off a pick & roll at one speed in one direction without recognizing the need to set the on-ball defender up with a foot/ball fake away from the screen and a change in speed as you encounter the screen.
The second problem is the lack of understanding of the physicality you need to play with as the ball-handler. Great stuff below on how NBA point guards use their body when coming off screens.
-Linked below is a fantastic video of Ty Lawson explaining "how to put your defender in jail" (or what John Beilein calls a "Hostage Dribble") put together by BBALL BREAKDOWN.
The video is a You Tube video.
You will need to click the play arrow to view it.