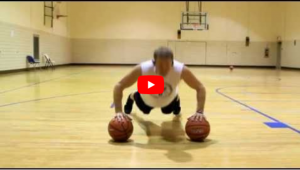 This is a short video that is a good message for players to hear regarding basketball practice.
The thoughts apply to both in season practices and to out of season workouts.
I think that sometimes it is good for the players to hear another voice other than their coach's.
Especially if that voice has credibility.
Even if you don't want your players to watch the video, I hope it gives you some thoughts to add some variety to the messages you give your players regarding practice and skill development.
It is a YouTube video, which I know some of your school networks may block.
Click on the play arrow to see the video/strong>
The Coaching Toolbox has hundreds of resources for coaching basketball including basketball practice, basketball plays, basketball drills, basketball quotes, basketball workouts, basketball poems, and more!