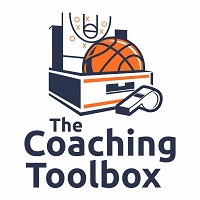 I received this article from Creighton Burns.
The article was written by Mike Dunlap, former Head Basketball Coach for the Charlotte Bobcats.  Coach Dunlap has also coached at several levels both internationally and at several colleges in the United States.
I frequently get asked about making players more aggressive.
SOME THOUGHTS:
1) Inch by inch.
Too much aggression from you, another player, assistant, or anyone else will drive him away from the very thing you are asking him to do.
2) 5 Two Minute Drills
a) Short drills that show the player how to be assertive.  Example given: you hold a ball out in front of you, squeezing it very tightly and the player must snap it out of your hands, front pivot and shoot.  This teaches him/her how, what, why, when, where, to be aggressive AND it doesn't hurt……also when you make him shoot at the end of the action it takes some focus off what you are after and is like a reward.
b) Slowly roll the ball from under basket. The player must dive on the ground, grab the ball, get up, and shoot the ball….put a target of say 3 makes out of 5 tries,all done within 2 minutes.
c) Have the player get into a defensive stance…you or another player does the same as they face each other about 12 inches apart and have them push  or lightly hit one another on the chest or shoulders…yes they alternate doing this, perhaps 3 times.  Then hand each a ball and have them power dribble the ball one time and lay it in. WHY?  This teaches the player how to pop another player without hurting anyone, lets him feel what it is like to take a hit, and shows him that the FEAR he was experiencing  was a ghost with no soul.
*The point here isn't the actual drill but more about the teaching methodology.

3) Self Evaluation
You can either do this with each drill  or at the end of practice.  Ask the player what he is going to give you today….scale of  1-10…. he says 8  then either hold him to that or ask him as the drills unfold to tell you how he thought he did in the last drill with his aggression level.  You may be amazed one way or the other how the player sees it.
4) Film
a) Get some clips of other players that show him an  "AGGRESSIVE ACT."
b) Film him doing an aggressive act; this reinforces the very behavior you are after and is quite easy now with IPads.
5) Patience
a) All this takes time but is well worth the wait. One thing is for sure: he won't become more aggressive because you yell at him or if he does it will be short term.
6) Model
a) Certainly one of your players has a salient predisposition for eating red meat.  It is a good idea to use this player as an example, but only if you do this in a skillful and thoughtful  way.  You don't just want to throw your "tenderloin" in with the wolf.
7) Peer Support
a) Teach and encourage your players to bring along the less aggressive, while also making sure they don't coddle them either: a balanced approach.
8) Game Ball-Practice Ball
a) Get a bag of Nerf balls and give them out occasionally as an acknowledgement to the player who demonstrates the very behavior you want. You can do this after practice or games….and it is quite cheap!
*My purpose here isn't to say everything or write in a way that I am  all knowing.  I just want to stimulate thought and  share some ideas.
Shared by Mike Dunlap