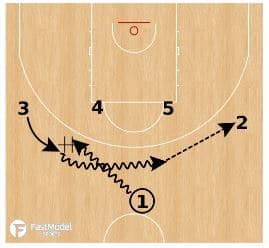 This play was run by Lithunia in the Olympics and then diagrammed and contributed by Matt Wheeler to the FastModel Sports Basketball Plays and Drills Library.
You can also find out more about FastModel Play Diagramming software by clicking this link: FastDraw
Coach Wheeler is the Head Boys Coach at Olympia High School in Orlando, Florida.
This is what he said about the play:
Lithuania ran this unique shuffle cut variation in their opening round game against Brazil.
Typically shuffle cut actions put the player receiving the staggered screen in the weak side corner . This way they can easily come off of the staggered screen after the shuffle screen takes place. In this play, 3 uses the UCLA cut to look for a layup on the strong side.
If 3 isn't open he moves to weak side block to open up a cutting area for 1, who is using the shuffle screen from 4. 4 & 5 then immediately set a staggered screen for 3. If 3 doesn't have a shot, Lithuania has added a ball screen option where the point guard sets a back screen for the 5 to free him up for a layup.
1 runs a DHO with 3.
3 turns the corner and passes to 2.
3 makes a UCLA cut off of 5's screen
4 screens for 1.
4 & 5 set a staggered screen for 3.
2 passes to 3 for the shot.
PNR Option
If 3 doesn't have the shot, 5 sets a ball screen for 3.
1 screens for 5 on the roll, then pops up top.
5 and spread out for spacing.