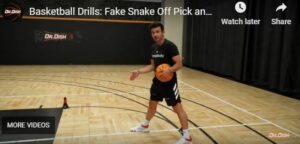 This drill and concepts are provided by our partners at Dr. Dish Basketball.
This drill was originally published on their blog at this link: Fake Snake Pick and Roll Drill
Like all drills that you see, you can either modify it or take parts of the drill for your use and your needs.
Please make sure your sound is on to see the video.
Click the play arrow to see the drill.
These drills are YouTube videos, so you will need to be on a server that allows you to access YouTube to see the drill.
Here DJ is simulating the on ball defender going over the top of the ball screen while the screener's defender showing a soft hedge. Typically to get to the open space in this situation is to "snake" the screen by crossing over. However, in this situation, DJ shows an in and out move to "fake snake" the screen and get to open space towards the wing area.
Practicing proper footwork is essential in this drill to cover maximum space and create an open shot. Make sure to practice this going both right and left.