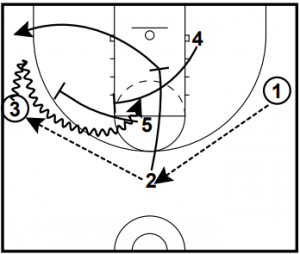 A couple of man to man plays to run out of a 1-4 high alignment.
The plays are from the 1-4 Offense Playbook assembled by Jason Jones.
It is combined with the Best Plays from the 2017 Men's NCAA Tournament Teams as this week's featured playbook bundle.
These actions do not have to be run as is. Take these movements and am to them or implement parts of them in what you already run. Or, use them as a place to start your thinking about ways to enhance what you will be running next season.
You probably won't be able to use the plays "As is" but you might be able to take a few of the actions that make up the play and use them to improve what you already do.
You can find out more about the 2 eBook Bundle at this link: 1-4 Offense Playbook & 2017 NCAA Tournament Best Man Offense
Diagrams created with FastDraw
"U"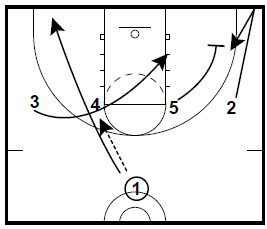 On post entry–opposite post (5) will down screen for 2
2 must sprint to space and this screen has to be set in deep corner
1 will always go first and 3 second on X hand off action
4 can give to either player – or fake and look for 2 off down screen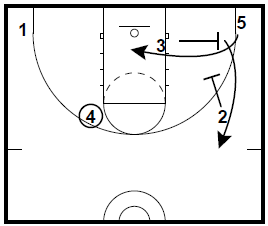 From here can go to flex very easily if you choose or
can go into 4 hitting 1 or 2 into a PNR game
Clear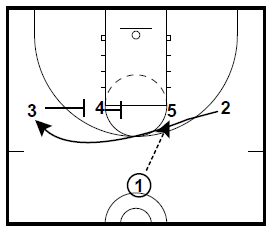 2 will run over action, as he clears hit 5 for quick clear out.
The play does not have to be run for a "5" player. You can put any player i that spot that you feel like would have an advantage in driving their defender from the elbow to the rim.
Not a play that you can go to several times in a game, but if you get the right matuchup it could result in a quick basket when you need on or a foul.
The plays are from the 1-4 Offense Playbook assembled by Jason Jones.