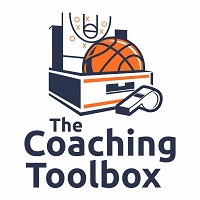 This post contains quotes from two Texas A&M Women's Assistant Bob Starkey on practice. His Hoop Thoughts Blog should be on your regular for basketball coaches.
Some maxims to use throughout the coming season to help players see the value in well planned and purposefully
conducted basketball practices. I have also added a few of my favorites at the end of the post.
I hope you find some useful ideas to inspire your players and coaching staff to make the most of your practice time.
from Coach Bob Starkey
Because it's that time of the year, here are some great quotes on the value of practice:
"An ounce of practice is worth more than tons of preaching." -Mahatma Gandhi
"When you are not practicing, remember, someone somewhere is practicing, and when you meet him he will win" – Ed Macauley
"It's not necessarily the amount of time you spend at practice that counts: it's what you put into the practice." -Eric Lindros
"Practice is the best of all instructors." -Publilius Syrus
"We learn by practice. Whether it means to learn to dance by practicing dancing or to learn to live by practicing living, the principles are the same." -Martha Graham
"Winning means you're willing to go longer, work harder, and give more than anyone else."-Vince Lombardi
"Don't practice until you get it right. Practice until you can't get it wrong." -Unknown
"Take chances, make mistakes. That's how you grow. Pain nourishes your courage. You have to fail in order to practice being brave." -Mary Tyler Moore
"We have all the light we need, we just need to put it in practice." -Albert Pike
"I play to win, whether during practice or a real game. And I will not let anything get in the way of me and my competitive enthusiasm to win." -Michael Jordan
"Don't only practice your art, but force your way into its secrets; art deserves that, for it and knowledge can raise man to the Divine." -Beethoven
"I've always considered myself to be just average talent and what I have is a ridiculous insane obsessiveness for practice and preparation." -Will Smith
"My father taught me that the only way you can make good at anything is to practice, and then practice some more." -Pete Rose
"Practice is everything. This is often misquoted as practice makes perfect." -Periander
"Everything is practice." -Pele
"I'm a strong believer that you practice like you play, little things make big things happen." -Tony Dorsett
"Knowledge is of no value unless you put it into practice." -Anton Chekhov
"I am playing the violin, that's all I know, nothing else, no education, no nothing. You just practice every day." -Itzhak Perlman
"Before we can talk about a championship, we have to practice like a championship team." -Mike Singletary
"Practice puts brains in your muscles." -Sam Snead
And a few of my favorites…
EVERY TIME WE TAKE THE FLOOR, WE PRACTICE AND PLAY WITH THE TECHNIQUE, INTENSITY, TOUGHNESS, AND TOGETHERNESS OF A STATE (OR NATIONAL) CHAMPION.
"The quality of practice greatly influences the outcome of games, and of great significance is that practice is something that your team can control."
"I just love the game of basketball so much. The game! I don't need the 18,000 people screaming and all the peripheral things. To me, the most enjoyable part is the practice and preparation." Bob Knight
"Practice without improvement is meaningless." Chuck Knox
[adinserter name="Block 3″]
"In practice, don't just run basketball drills, teach the players how to play basketball." Don Meyer
"Practice does not make the athlete. It is the quality and intensity of practice that makes the athlete, not just repeated practicing." Ray Meyer
"To give yourself the best possible chance of playing to your potential, you must prepare for every eventuality. That means practice." Unknown
"Habits are cobwebs at first; cables at last."
"In theory there is no difference between theory and practice. In practice there is." Yogi Berra
Daily improvement is directly proportional to your attention to detail in practice.
No coach ever won a game by what s/he knows; it's what their players can execute.
The greatest mistake is to continue practicing a mistake.
"That which we persist in doing becomes easier for us to do; not that the nature of the thing itself has changed but our ability to do it has increased." Ralph Waldo Emerson
You are making progress if each mistake is a new one.
"I will get ready and then perhaps my chance will come." Abraham Lincoln
The only thing that really counts is "are we getting better each day?"
"Good players can take coaching. Great players can take coaching and learn." John Wooden
Before you can be great, first you must be good. Before you can be good, you must be bad. Before you can be bad, first you must try.
If there is no struggle, there is no progress.
When you see a successful individual, a champion, you can be very sure that you are looking at an individual who pays great attention to the perfection of minor details.
Click here for information on the basketball practice e-book "130 Great Ideas to Get a Lot More Accomplished in Practice"
"The Talent Code" is another outstanding resource on improving through practice. You can click the cover of the book to read a portion of the contents.