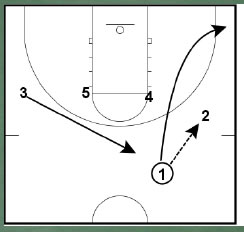 This play is from and older issue of the Iona Men's Basketball Newsletter.
This play is designed as an entry into dribble drive motion, but could be used as a quick hitter to isolate two of your best or as an entry into something else that you run.
Starting in a 1-4 High alignment, 1 passes to 2 and boom cuts.
3 lifts to fill the top of the key.
On 3's catch (it's tough to simulate how quickly the action occurs), 5 screens in for 4 and 2 runs through.
3 looks to drive the gap. The right side (overloaded just a moment before) is now empty and devoid of help (helps if #1 is a shooter)