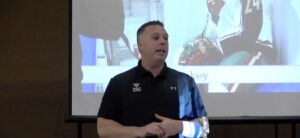 This video of Emmanuel College (Georgia) Head Coach TJ Rosene discussing one of the Game Based Drills that he uses called "Hockey"
The drill is five minutes and a half minutes long and does have sound.
The content is located on the Glazier Coaching Vault.
If interested, you can find out how to access all of the basketball content in the Glazier Vault at this link: Basketball Glazier Vault Access
You will want to set the special "Penalty Box" rules to fit the areas that you emphasize, as well as modify the drill to fit your beliefs.
It does offer a different way to emphasize the fundamentals and skills that you value.
You will need to click on the image of the video to start it.