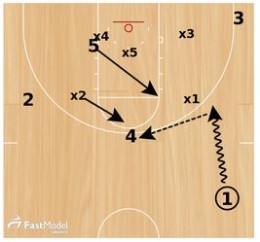 This set to run against a 2-3 zone is posted in the FastModel Sports Basketball Plays and Drills Library
The site has thousands of drills and plays that have been submitted by basketball coaches from around the world.
You can also find out more about FastModel Play Diagramming software by clicking this link: FastDraw
This post was made by Justin Scanson.
There are other ideas for quick hitters to run against a 2-3 zone at the bottom of the post in the "Related Posts" list.
This is a great quick hitter that puts a 2-3 zone in a few tough situations.
This play works best if 4 is a threat to shoot the 3 at the top of the key.
Once 1 initiates the play and swings the ball, quick ball movement and spacing put x4 in a spot where they have to figure out to whom they want to give the wide open 3.
1 Dribbles up the right side until x1 initiates defense.
4 steps out for ball reversal as 5 cuts to high post calling for the ball.
3 runs the baseline hard.
4 passes to 2 or 3. If passes to 2, they can make "1 more" to 3.
2 can make "1 more" pass to 3 or wait for 4 to dive to the block.