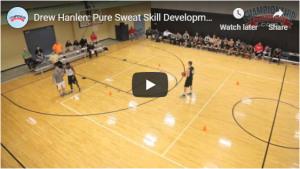 Today's post is a two and a half minute video of Skill Development Coach Drew Hanlen teaching footwork coming off a tight curl pindown to create separation from the defender. You might agree with the technique, you might not, but I hope it provides you with some food for thought.
The video is a You Tube video so make sure that you are on a server that allows You Tube access.
If you are not, I have a link to be able to watch the video on the Championship Productions site.
Make sure your sound is on and click the play arrow to see the video of the drill below. They are slightly different versions, but it does give you a few things to think about.
If you cannot see the drill below in You Tube format, you can use the link below. It will take you to the Championship productions site, click the play arrow on the video icon.
Drew Hanlen: Pure Sweat Skill Development
There is nothing to purchase to see the drill, however if you are interested in purchasing this or any other Championship DVD, you can use this link:
Drew Hanlen: Pure Sweat Skill Development
The video is 2 minutes and 37 seconds long.