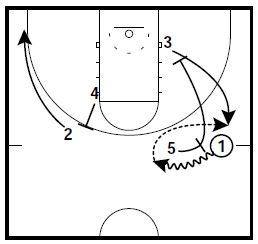 Here are a couple of sets that Virginia uses as a complement to their Blocker/Mover Offense.
These plays are a part of this week's featured eBook bundle.
You can see more information about what is included in this bundle by clicking this link: Virginia Playbook and the Encyclopedia of Packline Defense
My intent for all of the Xs and Os that I present on the site is that you might take parts of the actions from these sets and apply them to your personnel and your philosophy.
Roll into Step Up Flare
Diagrams created with FastDraw

1 comes off side ball screen from 5
5 veer screens for 3 to perimeter
4 clears 2 to the weak side corner with a flare screen
(In the diagram, the angle of the flare screen is not correct. Screeners back should be to the corner)
1 comes of the ball screen and throws back to 3 on the wing
3 dribbles at 1 who gets a flare screen from 4
Step Up, Roll & Replace
Forces 2s defender to guard 2 screening actions before fighting through a ball screen
1 passes to 4
4 passes to 3
5 screens 2 through lane
2 sets UCLA back screen for 4
2 pops out
3 passes the ball to 2
5 sets ball screen for 2
5 rolls to rim
4 replaces on the perimeter
You can see more information about what is included in this bundle by clicking this link: Virginia Playbook and the Encyclopedia of Packline Defense