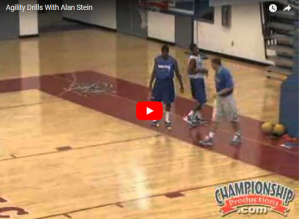 With many programs doing some planning in the next few weeks for their pre-season conditioning, here are three videos of conditioning drills from Alan Stein.
The videos are You Tube videos, so if you are on a server that blocks You Tube, you will not be able to see them.
Make sure that your sound is on and click the play arrow to watch each video.
The first video shows 2 drills working on change of direction, athletic explosiveness, and starting and stopping quickly.
The second video defines his term "hockey stop" and demonstrates another change of direction drill.
I really like Alan and his work. I would however, change the name on the third drill to something other than Suicide.
Make sure your sound is on to watch the videos
Tennis Ball Roll Out and Two Ball Dance
If you are interested in learning more about Alan's DVD that this drill came from you can click this link:
Alan Stein's DeMatha Basketball: Agility & Conditioning
Hockey Stop
This second video is an another drill and Alan defining his Hockey Stop Term.
If you are interested in seeing information on the DVD this drill is from, click here: Alan Stein In Season Conditioning