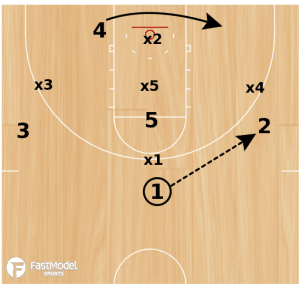 This play was contributed by Bert DeSalvo FastModel Sports Basketball Plays and Drills Library.
You can also find out more about FastModel Play Diagramming software by clicking this link: FastDraw
Here is a zone offense that I (Coach DeSalvo) have used to prepare for 1-3-1 zone defense.
It is designed to get your best player in the middle of the zone to make a play in the heart of the zone.
1-3-1 Zone Offense Prout Push
Start in 1-3-1 alignment
(Start to one side of the floor, the side your most dynamic players is on)
1 passes to 2
2 reverses to 1
1 reverses to 3
3 enters to strong side corner
2 (best player) flashes to high post
1 fades to weak side wing
4 looks to high post for 2 or to skip for 1 for 3 point shot
3 is safety
5 disappears to the opposite box