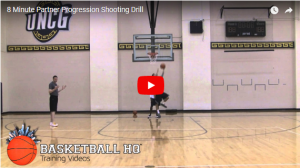 This drill is among the thousands of resources for both coaches and player available from basketballhq. They have several more videos as well as basketball coaching resource articles.
You can use this drill to get some ideas for a way to create a similar routine into your practices or improvement season workouts. I like the idea of a timed competition to keep players focused. You can substitute your own finishing moves such as jump hooks, floaters, up and under, or anything that your players use to score in the lane.
A good time for college players is 8 minutes, but for high school it could be 9 minutes. The best way for you to determine the time is by running the drill with your squad a few times–especially if you make adjustments to adapt the drill to different shots.
Layup drills are 10 makes, jump shots require 8 minutes from each spot.
The drill is from Coach Mike Roberts, University of North Carolina Greensboro Assistant Mens Coach
Please make sure your sound is on to see the video.
Click the play arrow so see the drill. The drill is a You Tube video, so you will need to be able to access You Tube to see the drill.
8 Minute Partner Progression Shooting Drill