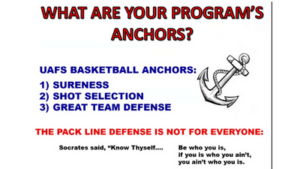 In this post Coach Jim Boone share what he likes to call his Program Anchors
Program Anchors are the things that are most important to you with regard to winning basketball games.
These are things that everyone in your program knows and can recite without hesitation.
For Coach Boone, these are his Program Anchors
Sureness – Taking care of the basketball. Keeping the ball out of a position of risk to turn it over. His offensive alignment is predicated on his team's ability to take care of the basketball.
Shot Selection – Nothing beats you faster than taking bad shots, rushed shots or pressured shots.
Team Defense – Coach Boone is well known for his Pack Line Defense and while it's not for everyone he has had great success and many coaches have sought out his advice on teaching the Pach Line.
This clip was actually taken from his Pack Line Defense Course. If you would like to learn more about that course click the following link: Pack Line Defense Certification Course