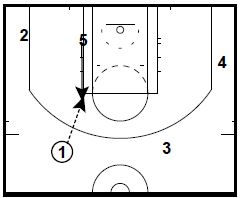 These 2 man to man set plays below are from the Golden State Warriors Playbook that was compiled by Wes Kosel
If these sets do not fit your players, I hope you can at least get an idea from them that you might be able to incorporate into what you currently do.
Diagrams created with FastDraw
Or, you can purchases any four of our digital playbooks for $35 (62 titles in all–Virginia, Texas Tech, Duke, Kentucky, Brad Stevens, and many others included!) 20 new titles on July 11!
Click this link for all choices! 4 digital playbooks for $35
Warriors Post Flash
1 passes to 5 flashing to the high post.
1 screens for 3 who cuts around the screen and then around 5 for a hand-off.
Once 3 has the ball, 5 and 1 set a staggered-screen for 4.
Warriors DHO Wing Stagger
1 dribbles towards the corner and gives the ball to 2 on a dribble hand-off.
5 follows 1 to set a ball-screen for 2.
5 rolls to the basket as 2 drives middle.
3 sets a flare-screen for 4.
If 4 gets the ball without a shot, 3 turns around to set a ball-screen for 4.
4 drives middle as 3 rolls or pops.