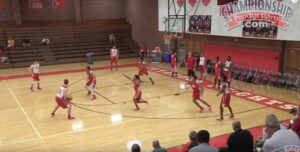 Illinois State Head Coach Dan Muller provides a short philosophy on why he teaches stunting to the basketball as well as a drill he uses to practice the technique.
The clip is 4 minutes and 11 seconds long.
The video is hosted on You Tube.
You will need to be on a network that allows you to access You Tube.
Click the play arrow to view the video.
There is narration with the video, so please make sure that your sound is on.
You can find out more about the Championship Productions video that this clip is from at this link: Dan Muller: Foundations for Man-to-Man Defense