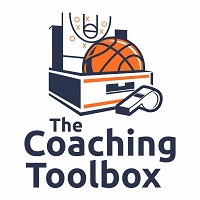 These two NBA playoff quick hitters are from the FastModel Sports Basketball Plays and Drills Library.
The site has thousands of drills and plays that have been submitted by basketball coaches from around the world.
The first play is for a post up, the second is to open up a penetration opportunity for a perimeter player.
You can also find out more about FastModel Play Diagramming software by clicking this link: FastDraw
The first play was contributed by Craig LeVasseur.
Craig was a member of the Detroit Pistons coaching staff for 5 seasons.
Golden State Strong Cross 4
1 swings to 5, swing to 2.
5 screens away for 1.
4 sets flare screen for 2.
5 pops out for pass from 1.
4 follows to re-screen for 2.
1 sets cross on 4 to block.
Cleveland Loop Double
Contributed by Gibson Pyper
1 passes to 2 on the wing and cuts through.
2 passes to 5.
1 comes off double screen from 2 & 4.
5 executes DHO with 1.
1 looks to attack early off DHO
If 1 he is stopped, he back dribbles and 5 sets a ball screen.