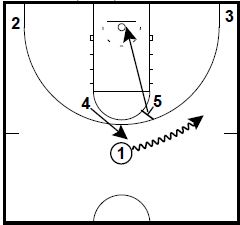 A man to man quick hitter to run against a team that traps the on ball screen and then rotates up.
Syracuse Women's Associate Head Coach Vonn Read submits two plays each month from his book The Basketball Encyclopedia of Plays.
You can also see more of his plays in the Related Posts links at the bottom of this post.
Vonn has also served as an assistant coach in the WNBA with the Phoenix Mercury, Orlando Miracle, and San Antonio Silver Stars.
He was an advanced scout for the Orlando Magic as well as The Charlotte Sting.
Diagrams created with FastDraw
Horns Down Clear
This is a Regular Horns Set.
Trap by the Defense – The defense traps the 1 player and rotates up to take away the pass to the 4 player.
This type of trap can create problems for the offense if the trap is a good one.
This is the adjustment to the trapping scheme!!
The 2 player will clear to the opposite corner right before the play to take away the defensive rotator (X2).
The defense will trap the 1 player.
The 5 player will roll to the block to occupy X4 at the rim.
Since the 2 player cleared to the opposite corner, X2 cannot rotate up to guard the 4 player at the top of the key.
The clear action takes away the rotator (X2)!!