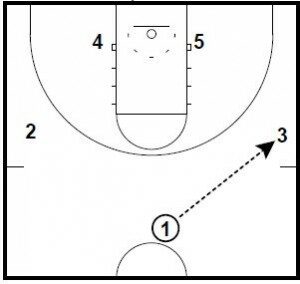 Today's post is a set to run against a 2-3 zone to get the ball into a post player in the lane.
Syracuse Women's Associate Head Coach Vonn Read submits two plays each month from his book The Basketball Encyclopedia of Plays.
You can also see more of his plays in the Related Posts links at the bottom of this post.
Vonn has also served as an assistant coach in the WNBA with the Phoenix Mercury, Orlando Miracle, and San Antonio Silver Stars. He was an advanced scout for the Orlando Magic as well as The Charlotte Sting.
If you are looking for other resources you can click here to see our products that relate to attacking zone defenses. There are some sample videos included in these as well: Zone Offense Resources
Diagrams created with FastDraw
Even if you don't run the play exactly as it is drawn up, I hope it sparks your thinking and discussion to improve what you currently run against a zone.
12 Flash Screen Down Middle X5 Trojan
This is a good quick hitter for a post shooter against the Zone.
The 1 player will pass to the wing.
The offense will fully reverse the ball to get the zone moving.
On ball reversal, the defense will have 2 players on the ball (bumping).
Once the 2 player catches the ball, the 5 player will fake flash to the ball and then downscreen on X5.
The 2 player will pass to the 1 player, who will pass to the 4 player flashing up the lane for the quick jump shot in the paint.
If X5 gets through the screen, go high low to the 5 player for the layup.
If you are looking for other resources you can click here to see our products that relate to attacking zone defenses. There are some sample videos included in these as well: Zone Offense Resources