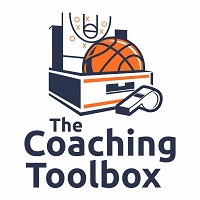 This video is with PGC Basketball Chad Songy.
You can see more drills and posts from PGC Basketball by visiting their Basketball Blog
You might want to have a manager or assistant coach try this exercise in your practices.
I am not suggesting that we should stop all instruction.
I am suggesting that it is critical to put a lot of thought into how we conduct our practices for maximum improvement and then evaluate what is happening to determine if the way that we run our practices is the absolute best way possible.
At this time of the season as you are cutting back on practice time, I think it is helpful to think about ways to use your time efficiently.
You can talk to players, not in the drill. You can substitute for players to talk to them. You can teach by creating rules in the drill so that mistakes and violating points of emphasis are points for the other team,
Please make sure that your sound is on and click on the video to play.
Click the play arrow to view the video.
The video is a YouTube video, so you need to be on a network that does not block YouTube access.