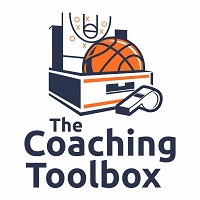 By Brendan Hall
The 3-point­er has nev­er been more val­ued than it is today. So why not embrace it with a stat that real­ly shows off its rewards?
Coaches young and old are embrac­ing the mod­ern game full-on. This means allow­ing some of their most stead­fast prin­ci­ples to be twist­ed based on what today's most pop­u­lar advanced met­rics suggest.
Take, for instance, Marshall University head coach Dan D'Antoni, who in his now-famous ​"damn ana­lyt­ics" rant laid out to a reporter why he wasn't all too con­cerned with post­ing up any­more. The best place on the floor to spot up for a shot? The num­bers told him it was a 3-point attempt from the cor­ner. The next-best shot? Any oth­er three.
He had a front-row seat to the rev­o­lu­tion as an assis­tant for his broth­er Mike D'Antoni, whose mid-aughts Phoenix Suns paved the way for the fre­net­ic run-and-gun style adopt­ed wide­ly in today's NBA. Dan clear­ly took notes, as his Thundering Herd sank a bar­rage of threes to score a first-round upset in their first NCAA tour­na­ment appear­ance in three decades.
So, if a 70-year-old coach can embrace effec­tive field goal per­cent­age (one of the ​"Four Factors") as his North Star, why not every­one else? As the name implies, coach­es are turn­ing to this stat to help them mea­sure the effi­cien­cy of their shot selec­tion — and whether they're deny­ing it from their foes.
How It Works
This stat is more inflat­ed than your tra­di­tion­al field goal per­cent­age, adding a weight­ed mod­i­fi­er to the three-point makes. 
eFG% = (2FGM [1.5 X 3FGM]) / FGA
But it's inflat­ed with a pur­pose. Let's com­pare two sce­nar­ios of team­mates con­tribut­ing to a win.
Scenario 1
Player A shoots 5 of 10 from the floor, includ­ing a 4 for 8 night on threes.
Player B, work­ing the paint, fin­ish­es 7 of 14, all twos.
Scenario 2
Player A fin­ish­es 8 of 14 from the floor, all of them 2-point­ers, for a 57 per­cent clip on field goal percentage.
Player B isn't as accu­rate, going 5 for 13, all of them threes, for just a 38 per­cent clip.
In both sce­nar­ios, who do you think had the bet­ter night?
How Teams Value It
Catholic High School of Baton Rouge boys bas­ket­ball coach Mark Cascio, the youngest coach to ever win a state title in Louisiana his­to­ry, con­sid­ers this stat the biggest dif­fer­ence between win­ning and los­ing for high school teams.
"It's the No. 1 fac­tor in how you win high school games," he says. ​"That, and turnover bat­tles. If you win those two bat­tles, I think you win 90 per­cent of the time. We shoot a lot of threes, so our effec­tive field goal per­cent­age tends to be pret­ty high, espe­cial­ly when we shoot the ball well." 
At Catholic, the Bears are heavy on the three attempts, aver­ag­ing near­ly 27 a game in some years. They also nev­er want to face a set defense, so they play with pace and space, run­ning a con­cep­tu­al offen­sive style that bor­rows from a vari­ety of attacks includ­ing drib­ble-dri­ve motion.
Nationally-ranked Philadelphia pow­er Imhotep Charter had the lux­u­ry of a few sharp­shoot­ers on its 2018 – 19 team, but that didn't nec­es­sar­i­ly mean they always had the green light from deep. Effective field goal per­cent­age has been a great way for the Panthers to mea­sure the econ­o­my on their shot selec­tion — and ensure they're mak­ing the best decisions.
And it goes both ways. Imhotep prides itself on play­ing tough, phys­i­cal defense, and looks to effec­tive field goal per­cent­age for a read on how well they're doing in that department.
"The oppos­ing team's effec­tive field goal per­cent­age, that's an impor­tant num­ber for us," says head coach Andre Noble. ​"The strength of our pro­gram has always been on the defen­sive side. We pride our­selves on get­ting stops, and that's prob­a­bly the best mark­er for how you're doing that, in my opin­ion. It's huge­ly important." 
How You Can Use It
Consider your team's effec­tive field goal per­cent­age num­bers as a gate­way to all the oth­er dis­cov­er­ies that will help improve your program.
For instance, let's say one of your play­ers has a rea­son­ably high effec­tive field goal per­cent­age. That leads you to the shot charts from your game reports, where­upon you dis­cov­er that play­er is par­tic­u­lar­ly effec­tive from one side of the floor. You can present that infor­ma­tion to the play­er, and work on improv­ing the oth­er side. You can also bring it to the white­board, using the shot chart infor­ma­tion to devise some sets that cre­ate an open look for the play­er in their ​"sweet spot".
Effective field goal per­cent­age is just as cru­cial in oppo­nent scout­ing. Using this stat, you can point out the best shoot­ers on their team, and remind your play­ers those are the ones they'll have to close out on and keep a hand in their face. You can then fol­low up and look at the shot charts to see where on the floor those shoot­ers are most effec­tive. Do they park in the cor­ner? Are they dom­i­nant with one hand? You'll be able to devise more sen­si­ble match-ups to fit the numbers.
A num­ber of oth­er fac­tors can also weigh on effec­tive field goal per­cent­age. If you're a big believ­er in win­ning the turnover bat­tle, you'll know that a live-ball turnover often leads to an open layup. So the more forced turnovers, the bet­ter your chances of boost­ing your eFG%.
An offen­sive rebound typ­i­cal­ly leads to a sec­ond or third field goal attempt in a pos­ses­sion — and that attempt is often com­ing around the rim, or at least clos­er to the ini­tial shot. This means offen­sive rebound­ing per­cent­age, anoth­er one of the Four Factors, also affects eFG%. If you're min­i­miz­ing pos­ses­sion oppor­tu­ni­ties for your oppo­nents, that'll reflect in the eFG% total on the stat sheet.
**
More coach­es than ever are turn­ing to the inter­ac­tive reports from Hudl Assist to uncov­er these cru­cial num­bers. With Assist, you'll get both team and indi­vid­ual eFG num­bers linked to the video, mak­ing it easy to be sure you're on the right side of these odds.
Already have Assist and want to get more out of it? Learn all the best tips and tricks with Hudl Academy.