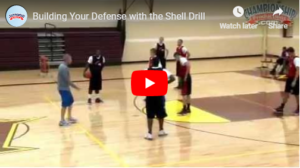 Here is a video of a few ways to use the shell drill to teach just more than defensive positioning. In my opinion, you can use the shell to drill many of the defensive principles that we teach in man to man defense.
In this video, Indiana State's Greg Lansing teaches jumping to the ball to guard a basket cut and helping and recovering on dribble penetration. I hope the video gets you thinking about some ways to incorporate your defensive principles and actions you guard into the shell drill,
Make sure your sound is on as you watch.
If you are interested in finding out more about the DVD that this video clip came from, you can click here:
Building Your Defense with the Shell Drill
The video is a You Tube video.  Press play to see it!