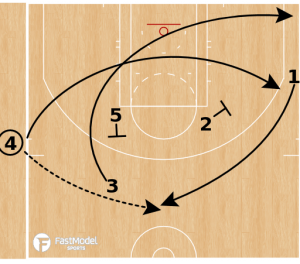 Sideline inbound plays from the Philadelphia 76ers. The first play was contributed by Austin Anderson to the FastModel Sports Basketball Plays and Drills Library.
You can also find out more about FastModel Play Diagramming software by clicking this link: FastDraw
Austin recently completed an internship with the Charlotte Hornets as a video scout intern where he assisted the video coordinators with opponent scouting and game planning. Anderson was also responsible for opponent personnel edits, databasing free agents, and building a video playbook, along with player development workouts and team practices.
He also served as at Delta State as a Graduate Assistant and at UMPI as an Assistant Coach and Recruiting Coordinator.
Here are the comments that Austin made about the play.
Philadelphia 76ers SLOB Action. Philly loves running regular actions out of SLOB looks. A majority of its SLOB's will start with a strong side back screen and a weak side pin to the top.
In this action from there, Simmons gets them into their "Ear Tug" Series which looks a lot like "Horns". "Number-Number" tells you who is involved in the action. So for Ear Tug 25 Pop, the 2-5 are in action. Simmons comes off the 2 (Redick/Belinelli) and the 2 is flared by the 5 all the way out to the wing (Pop). Redick/Belinelli have the green light to shoot if they get open. Simmons then receives a RIP/Back screen from the 5 and clears. If the lob or dump down to Simmons is there, they will take it. Sequence ends with Embiid playing a 2-man game with Redick/Belinelli.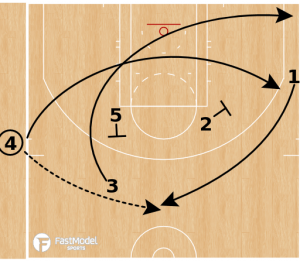 3 cuts off 5 to weak side corner.
2 pins 1 to top, who receives inbounds from 4.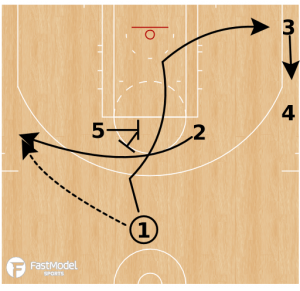 2 comes off cross screen from 5 to catch pass from 1.
5 sets rip screen for 1 who clears to corner.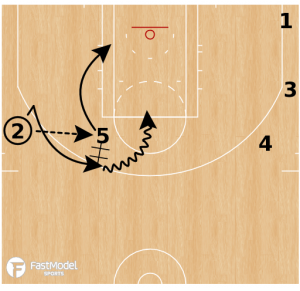 2 hits 5 at elbow and takes hand off playing 2-man game as 5 rolls.
Play #2 EOG Corner SLOB
The diagram was contributed by Matt Wheeler. You can see the original on this page.
Matt said this about the play:
The Philadelphia 76ers were down 2 with 1.7 seconds left in Game 3 of their playoff series with the Boston Celtics and needed to get a shot off in a catch and shoot situation. The Sixers were able to get a look for their first option in this play with Bellinelli (3) cutting to the corner to receive the pass from Ben Simmons (1) and send the game into overtime. With no timeouts left in the game, Philadelphia embedded secondary options into the play with Joel Embid (5) screening for J.J. Redick (2) at the rim. 5 seals his defender after the screen to get an opportunity at the basket. 2 cuts off the screen up top for the final option in the play.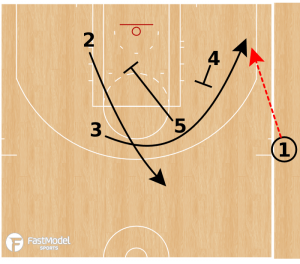 3 cuts around 5 and off the screen from 4 toward corner.
1 passes to 3 for the shot.
Secondary options:
5 screens for 2 to open up lob at rim or jumper at top of key.