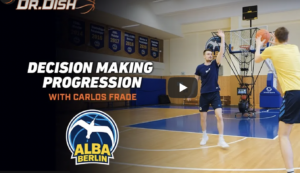 Provided by our friends at Dr. Dish Basketball
FIBA Player Development Coach Carlos Frade shows a drill to teach 2 on 1 decision making.
There are two drills in the post.  The first one is a one on one drill that is good to teach to attack the front hand of the defender closing out.
The second drill is the one that I really like.  it is a very good 2 on 1 decision making and is scored based on how efficiently (minimizing passes and dribbles)  the 2 offensive players can MAKE a shot.
Please make sure your sound is on to see the video.
This drill is hosted on YouTube, so you will need to be on a server that allows you to access YouTube to see the drill.
Click the play arrow to see the drill.