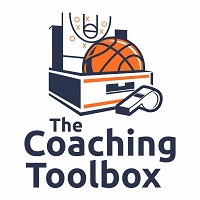 This drill was posted by Coach Jim Ponchak in Fast Model Sports Plays and Drills Library
The drill is from Billy Donovan when he coached at Florida and allows the opportunity for players to compete against their own personal best, against other players, or against established team standards.
I like to end shooting workouts with a drill that requires toughness and forces players to shoot when fatigued. One way to do that is to set a certain number of makes that is in line with the players' skill level, but that will also push them past their comfort zone.
This is one of those drills.
Here is how the drill works:
– Shooter makes 10 from each spot without stopping
– Change spots after making 10
– Time how long it takes to get 50 makes
– Passer need to pass to the inside shoulder to lead the shooter into the shot
– Shooter needs to constantly prepare for the shot
– Beat the pass as a shooter by getting feet ready and being set to shoot before the ball arrives
– Shoot from the corner, wing, top, wing, and corner