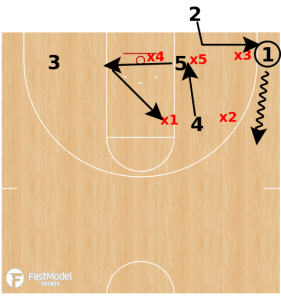 This baseline inbound play to run against a 2-3 zone defense was contributed by Justin Scanson to the FastModel Sports Basketball Plays and Drills Library.
You can also find out more about FastModel Play Diagramming software by clicking this link: FastDraw
This is what Coach Scanson said about the play:
This Zone BLOB starts in an overload on the strong side shifting the defense from the start.
From this overload, players screen the zone and work to take advantage as the defense reacts.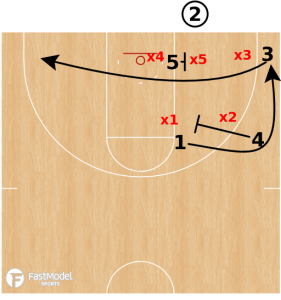 5 seals x5 as 3 cuts to opposite corner.
4 screens for 1 and 1 wheels to the corner.
If x4 chases 3 and 5 seals x5… layup for 5.
If x5 gets position on 5, 4 is open cutting to the ball.
If x4 stays home, 3 is open on weak side.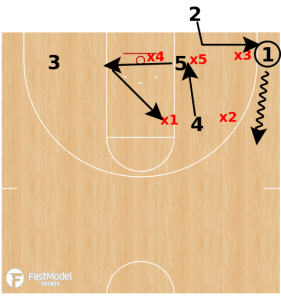 Safety outlet is 1 in the corner.
1 dribble drags x3 as far as possible and brings ball back to 2 in the corner.
2 has 4 on the block or 5 flashing to high post.