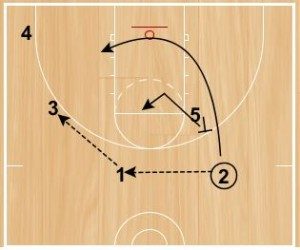 This set is for attacking a box and one defense.
It is from a series of plays diagrammed by Northridge Prep (Chicago) Boys Head Coach Will Rey.
Coach Rey is one of the nation's premier zone and combination defense coaches.
He was inducted into the Illinois Basketball Hall of Fame in 2015.
I have a link to download the entire 11 page pdf with ideas for attacking a box and one at the bottom of this post.
He is 206-108 in 11 seasons at Northridge.
Before taking over at Northridge he was the head coach at Loyola University (Chicago) and was an Assistant at Evansville and Wright State.
He also puts out a lot of great coaching thoughts on his Twitter account: @coach4character
Box and 1 Attack
Diagrams created with FastDraw
2 is the player being played man to man. Remaining defensive players are in a 2-2 box.
2 hits 1 and cuts off 5 into the low post.
After 1 cuts by, 5 flashes into the lane. 1 has the option to hit him if he is open.
1 can also hit 3 for a shot, or 3 can feed 2 in the low post
3 hits 4 in the corner.
4 can shoot if open, or feed 2.
5 moves to the opposite side low block.
4 returns the pass to 3 and then screens in for 2.
5 also screens in on the opposite side.
2 can cut off either screen.
Option
If 2 comes off 4s screen, 4 also looks for the ball after screening.
3 can pass to 2 or 4.
2 can also cut off of 5s screen on the back side. If he does, then 5 flashes to the ball after screening.
If 3 can't get the ball to 2, 3 reverses the ball to 1 and 2 runs the baseline.
1 can hit 4 or 5 on the step ups, 2 coming off the screens, or 3 sliding to the corner after the pass.
Click this Link to download the 11 page pdf of several ways to attack a box and one defense.