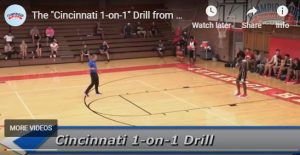 Two short videos of transition drills from successful Division 1 Coaches.
The first is a 1 on 1 drill to work with players on developing an aggressive downhill mentality with former Buffalo (now at Alabama) Men's Coach Nate Oats. In addition to a demonstration of the drill, Coach Oats provides his 5 defensive non-negotiables.
The second video is Arkansas women's coach Mike Neighbors with a 5 on 0 transition drill.
These videos of are hosted on You Tube, so you will not be able to access it unless you are on a server that allows You Tube access.
Click the play arrow to view the videos.
There is narration with the video, so please make sure that your sound is on.

Cincinnati 1-on-1 Drill
You can find out more about the Championship Productions video that this clip is from at this link: Nate Oats: Transition Offense
Arkansas 5 Trips Drill
You can find out more about the Championship Productions video that this clip is from at this link: Green Light Shooting: Determining Shot Selection and Shot Distribution