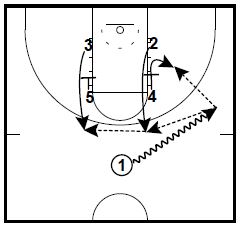 This man to man set is from the Mercer Bears Coach Bob Hoffman. Mercer gained notoriety this past spring with their upset of Duke in the 2014 NCAA tournament.
This week's 7 eBook bundle "The 2015-16 NCAA Basketball Collection" along with the plays of the teams in the other three regions, the Wisconsin/Maryland scouting report, the Michigan State Defense eBook, and the Stephen F. Austin Playbook.
You can find out more about them at this link: NCAA Basketball Collection
and, as always email or call/text me at (317) 721-1527 with any questions.
Box Zipper
Diagrams created with FastDraw
1 dribbles toward the wing.
4 sets a down screen for 2.
2 makes a zipper cut and receives a pass from 1.
1 can also look to pass to 4 posting up after the screen.
Once 2 has the ball, 5 sets a down screen for 3.
2 passes to 3 cutting up on the screen.
1 then cuts across the lane on a staggered screen from 4 and 5.
3 passes to 1 on the wing.
After screening for 1, 4 turns and sets a screen for 2 who cuts to the low post.
5 sets a screen for 4 who cuts to the elbow.
If 2 or 4 aren't open, 4 steps out to set a wing ball-screen for 1.
1 looks to drive to the basket for the score.
If 1 is flattened out on the screen, he can pass to 2 in the corner who passes to 4 with post position.