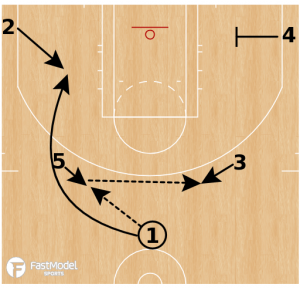 This series of similar plays run by the Boston Celtics was contributed by Doug Brotherton to the FastModel Sports Basketball Plays and Drills Library.
You can also find out more about FastModel Play Diagramming software by clicking this link: FastDraw
Doug Brotherton is entering his 14th year of coaching basketball, and his 6th year at the helm of The Village School girls varsity basketball program. He has coached boys high school basketball, girls high school basketball, and started the Men's Basketball program at Mid-Michigan Community College.
Coach Brotherton is also very involved at all levels of basketball. He is a NBA Regional Advanced Scout for the Chicago Bulls. He is the Director of Coaching Development for HoopGrind Basketball. Coach Brotherton was elected as the Texas Association of Basketball Coaches Large Private School Board Member. This past year, Coach Brotherton helped develop the drill book and coaches packets for Jay Bilas Basketball Camps.
In 2018, Positive Coaches Alliance selected Coach Brotherton as one of the 50 Double-Goal Coach National Award Winners, for his positive impact on his athletes on the court and in life.
This is what Coach Brotherton said about the play:
In a pivotal Game 6 of the 2017 NBA Playoffs, the Celtics were struggling offensively. Brad Stevens is excellent at designing multiple set sequences, to help his team find a rhythm. In the 2nd quarter, the Celtics ran this sequence, scoring on two of the three possessions. The only possession that they did not score was an open 3, which rimmed out. It was a terrific sequence, which kept the defense off balance.
Boston Celtics – 15 Point Series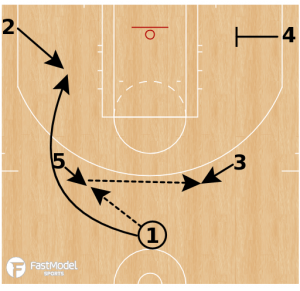 1 passes to 5
1 cuts off of 5, faking the DHO
4 & 2 cut in from the corners
3 pops to the slot
5 passes to 3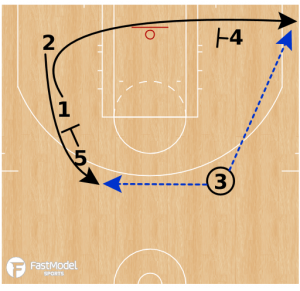 "Fake Stagger Rip"
1 fakes a down screen for 2
2 takes a down screen for 5
1 gets a baseline screen from 4
"Fake Stagger Snap"
1 fakes a down screen for 2
2 gets a baseline screen from 4
1 "snaps" off a down screen from 5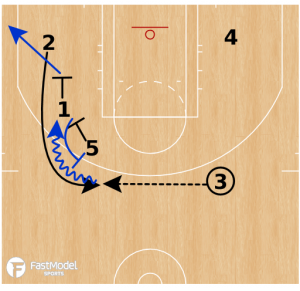 "Stagger Flip"
1 and 5 set a double stagger for 2
3 passes to 2
5 sets a ball screen for 2 (BLUE)
The second play on this post was contributed to The FastModel Plays and Drills Library by Kevin Bruinsma. Kevin is in his fourth season with the Youngstown State men's basketball program & his second season as Assistant Coach after spending the previous two years as Director of Basketball Operations.
Prior to joing the Youngstown State staff, Bruinsma served as the Director of Basketball Technology at the University of Portland for the 2012-13 season.
Boston Celtics – Post STS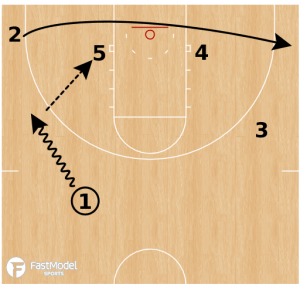 1 dribbles to wing, pushing 2 to corner.
1 enters ball to 5 in post.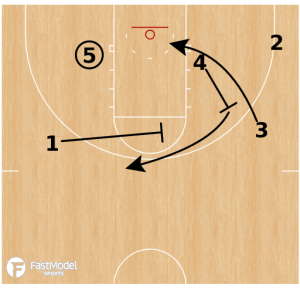 4 sets back screen for 3.
1 screens for 4 (STS action).