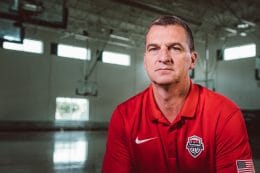 Hudl got a chance to sit down with Maryland coach Mark Turgeon to dish on how he uses video to prepare Maryland for upcoming opponents.
If there was ever any doubt about how important video study is to college coaches, Mark Turgeon squashes that thought almost immediately.
An assistant on the USA Basketball U18 squad that won the FIBA Americas U18 Championship in Chile, Turgeon knows a thing or two about leading a team. Entering his 19th season as a head coach (his sixth at Maryland), he's already captured four conference Coach of the Year awards – one Missouri Valley, two Big 12, one Big Ten. Turgeon has learned the importance of preparation and used it to vault himself into the upper echelon of college coaches.
Video has a bigger role in his rise than most casual observers might realize. In fact, Turgeon estimates that an assistant spends 20-30 hours watching video for every opponent. He'll watch six to eight hours himself, depending on how familiar he is with the opponent or its coach.
If that seems excessive, it's not. In a one-on-one conversation during Team USA's July preparations in Houston, Turgeon discussed just how critical video is to his scouting process, what he looks for when watching and how he feeds that information to his players.
***
"Video is huge for us."
These are the first words Turgeon uses to kick off the interview. He watches all that he can, breaking down an opponent's sets, secondary break strategies, rebounding and ball screens. If the opposition excels on fast breaks, Turgeon will zone in on that.
The staff puts extra attention on close games – Turgeon and crew will always watch the last four minutes of any game decided by five points or less. No detail is too small to overlook.
"For about six months it feels like you're just watching video after video," Turgeon said. "But it's paramount for what we're trying to accomplish as a basketball program."
Turgeon locks in on the tendencies displayed by both the opposing players and coaches. If a team runs a certain play more often than others, Turgeon will dedicate more practice time to defending that action. Similarly, if an opposing wing player drives right far more than he drives left, Turgeon will instruct his defender to shade more toward that hand.
"There are a lot of ways we can use video to get those stats," he said. "That's a lot of work for my guys and they put a lot into it. Left shoulder, right shoulder for a post player, we break it down that way.
"When it comes to percentages defensively and offensively for an individual player, is he turnover prone? Is he an assist guy? Is he a really good shooter? Is he a better shooter from the right corner than the left corner? I have a great staff and great film guys that do a tremendous job of helping our players get prepared in a really fast manner."
***
All the time spent preparing through video leaves Turgeon armed with an encyclopedia of valuable information. But gathering the breakdown data is only half the battle – sharing the information with his players is a different obstacle.
Players have neither the time nor the attentiveness to take in as much data as coaches do. If Turgeon unleashed all the video he and his staff gather on the athletes, they would be overwhelmed, and most of the insights would likely go in one ear and out the other. Players might think too much during games, trying to recall dozens of instructions instead of playing instinctively.
Turgeon's experience has taught him how to avoid those potential pitfalls. His opponent breakdowns are rarely longer than 12 minutes, hitting on the most important opponent tendencies without drowning his players in information.
The same goes for self-scouting. Maryland's postgame video sessions are generally brief, though some contests require longer breakdowns.
"It's a long year, so I try not to go more than a 15-minute clip on ourselves going into games," Turgeon said. "Sometimes you get to games where you need to watch the whole game, the whole half, or you might just need to break off 15 clips. It all depends on who you're playing. As you get into the season you're working on taking from practice what you're doing well defensively and what you're doing well offensively."
Turgeon will occasionally have players watch video on their own time. Each locker in Maryland's practice facility is equipped with an iPad that allows athletes to study both game footage and the playbook.
But Turgeon does try to limit how much studying players do on their own time, especially the younger ones. He'd rather they get their information from the coaches during team sessions than make their own judgements.
"We don't really want them forming their own opinions on how to guard somebody or whether it's a good shot or a bad shot for them personally," Turgeon said. "But when you get a veteran around, they watch a lot more on their own. Jake Layman for us was a veteran last year. He'd been through it, so he'd be sitting at his locker watching film."
The USA Basketball experience was a unique one for Turgeon. He was last an assistant coach in 1998, but he took a back seat to head coach Shaka Smart for the U18 Championship.
Such an ego check might have been difficult for a coach with his resume, but Turgeon took it as a learning opportunity. Having previously coached under titans Larry Brown and Roy Williams, Turgeon realized this was another chance to improve at his craft.
"If you have that approach to your coaching career, it allows you to stay fresh and stay successful," he said. "It comes down to passion and really wanting to help people be successful.
"In the end, I couldn't be my high school coach. I couldn't be Larry Brown. I couldn't be Roy Williams. I had to be Mark Turgeon, and that's what they gave me. I'm not a dummy. I soaked it up like a sponge. When I was with them I learned and took the good from everybody."
That includes video study. Turgeon has his philosophies, but they are ever-evolving, and he'll incorporate some of what he learned from Smart and fellow assistant Kevin Ollie into the way he approaches video in the future.
"I want to be great. I don't want to be good," Turgeon said. "I want to be great, so I'm always trying to get better and trying to learn."
Interested in unlocking the power of video for yourself? Check out Hudl basketball to learn more.