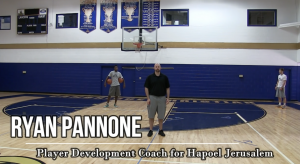 These two shooting drills are among the thousands of resources for both coaches and player available from basketballhq.
They have several more videos as well as basketball coaching resource articles.
BasketballHQ has just released their Basketball Coaches Training Group. In the group you will get access to different workout plans that are going to be for the team as a whole, by position, by the number of players and more. This is an all inclusive training group that is going to allow you to walk onto the court with a full workout plan in hand for your players through our easy to use Iphone and Android App. Every drill comes with a video breaking down the details of the drill, and all of the videos are instructed by a Pro or College coach and demonstrated by a high level player. click here for More Information on the Basketball Coaches Training Group.
I have posted a sample from the Coaches Training Group below the second video.
The drills are coached by Ryan Panone.
I encourage you to think about the best way to tweak the drills before you implement them so that they offer the most benefit for your players.
Even as you are first implementing them, you may need to continue the process of making some adjustments so that they are contributing to the improvement of your players.
Make sure that your speakers are on to hear the narration and that you can access You Tube to see the videos.
Click the play arrow to begin each video.
Make 2 Before Missing 1 Shooting Drill
Double or Nothing Shooting Drill
Here is a 2:00 minute sample of the type of content that is available in the BasketballHQ Coaches Training Group.