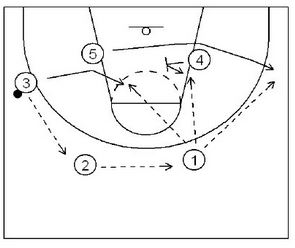 This play is run against a 2-3 zone defense.
I found this on one of Creighton Burns' newsletters.
If you are interested in receiving his newsletter, contact us and I will put you in touch with Coach Burns.
#1 Dribble enters to the wing.
#3 rolls away and fills the backside wing.
#2 steps out and fills the point.
On the pass back to #2, #4 will flash into the middle, cutting against the grain.
If #4 is open on the cut,#2 should get him the ball for a shot.
if #4 does not have a shot, he should look down to #5and then to number one on the wing.
If #4 is not open, #2should move the ball down to #3.
On the pass to #3, #5 will slide across the laneto work to free himself.
#3 may have a shot attempt, or a feed to #5.
Note: when #2 makes the pass to #3, #2 and #1 should relocate toward the ball, and to get into a to guard front.
If nothing is open, #3 will start another ball reversal by passing to #2.
On the pass from #2 over to #1, #5 will screen the outside baseline defender and #4 will use the screen to cut to the wing.
#3 will flash into the middle from behind the zone.
#1 can feed #3 in the middle, #4 in the corner, or if #5 slips the screen, #1 may be able to get a ball to him.
This diagram illustrates another ball reversal, with #3 screening for #4, and #5 flashing into the middle from behind the defense.
#2 can feed #5, #4 cutting outside, or to #3 slipping the screen.
He may be able to pass fake and throw back to #1 for a shot opportunity
This diagram illustrates still another ball reversal with the three inside players roving into and out of the post area.
Note: if the skip pass is made, it is the same as if #2 made the pass to #1. #5 will screen and #3 will cut on the baseline.