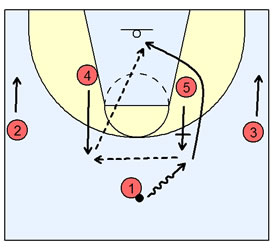 This play was contributed by Creighton Burns.
He has made coaching stops in four states including Georgia, Indiana, Kentucky, and Michigan at both the high school and college levels.
Coach Burns has coached both Men and Women.
Creighton has received numerous coaching honors including Indiana Basketball Coaches Association Coach of the Year in 1988.
#1 enters the ball to #4, who steps outside the 3-point line to receive the ball.
#5 back screens for #1, and #1 runs a back cut to the rim.
If #1 is wide open, #4 should get him the ball.
If #1 is not open, #4 will pass to #5, who steps to the ball after setting his screen.
#5 swings the ball on to #3.
On the pass from #5 to #3, #1 will back screen for #4 and #4 will run a shuffle cut, over or, under the screen.
If #4 is open, he should get the ball from #3.
After making the pass to #3, #5 will screen for the screener, #1.
#1 will fill the point.
If #4 is not open, #3 will make the pass to #1.
On the wing to point pass, the low post will flash back up to the high side post.
The offense is now reloaded and ready to be executed once again.